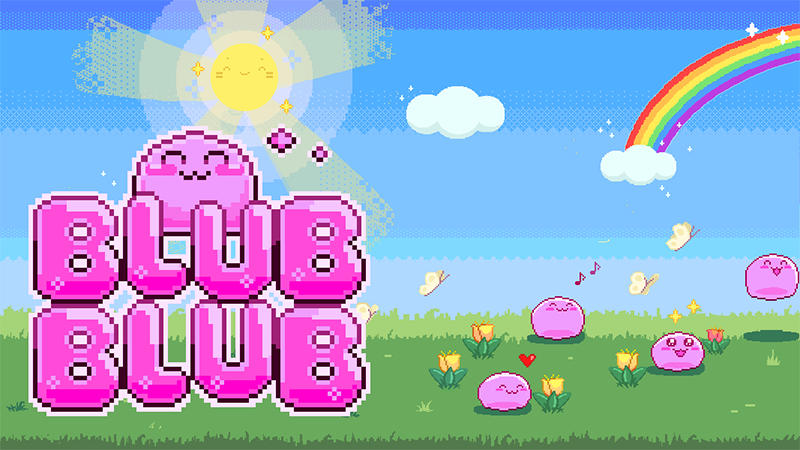 BlubBlub: Quest of the Blob
A downloadable game for Windows and macOS
BlubBlub: Quest of the Blob
The game begins with BlubBlub dancing in a meadow, chasing butterflies and being its Blubby self, when BlubBlub encounters Jennifer, an evil scientist bent on building the world's greatest cosmetics empire.
Jennifer is out on a hunt to extract cuteness from anything and everything in sight to create the world's finest line of make up. It just so happens, BlubBlub is the cutest blub there ever was...
While BlubBlub is just beginning to warm up to a conversation, evil Jennifer captures an unsuspecting BlubBlub in her syringe (!)
After waking up in a cell-like room, BlubBlub discovers it must now parkour its way out, while rescuing its bestfriend, Blobby, who isn't doing very well (labs...experiments.. you get the drift)


---

About the Development Team
BlubBlub: Quest of the Blob was created by Team BlubBlub, a group of girls ages 9-11 years old, from the Girls Make Games summer camp in Boston, MA. The game won Grand Prize at the 2016 Girls Make Games Demo Day and went on to raise over $32K on Kickstarter.
Play the original demo created completely by Team BlubBlub (design, writing, art, coding, music) at the summer camp: http://girlsmakegames.com/BlubBlubDemo2016.swf
Team BlubBlub members, ages 9-11: Beatrix M., Manaira F., Jordan L.

Professional build fully designed by Team BlubBlub, alongside:
Programming: Kristani Alcantara, Ish Syed
Art: Alex Clauss
Audio: Joe Marchuk
---

About Girls Make Games
Girls Make Games is a series of international summer camps and workshops designed to inspire the next generation of designers, creators, and engineers.
GMG's flagship program, the 3 week summer camp, runs every summer and culminates in a Demo Day competition with the Top 5 teams flown out to the San Francisco Bay Area. Winning team receives year long mentorship and the opportunity to have their game professionally produced and published.
For more information, visit www.girlsmakegames.com
Download
Click download now to get access to the following files:
BlubBlub Quest of the Blob (Mac).zip
36 MB
BlubBlub Quest of the Blob (Windows).zip
32 MB
Comments
Log in with itch.io to leave a comment.
Awesome job! I love it, super cute. I need to go back and play it to completion.
I'm going to have to figure if this can run in Linux just so I can try it.
I'm very happy to know this game was made. You rock, ladies! :D


This was really cool and super impressive! And also surprisingly challenging, haha. Some of the obstacles were just mean. But seriously, great work. The whole time I was just so impressed, because I certainly couldn't put together something like this.
Thank you Alexstrazsa! The game was designed to be challenging but fun at the same time, so hopefully you got to experience both sides! :D We appreciate your love and support! <3
This game was tough! I'm not very good at 2D Platformers, but I perservered and managed to beat it! It's really mind blowing that a group of young kids helped developed this game. It's got a cute theme and the gameplay is pretty fun!
There are some places where I feel the game could be improved. The collision detection with walls or platforms you jump into kinda causes the player character to get stuck against that surface. This can be especially problematic during some platforming sections. Another problem has to do with the jumping. It seems the double jump is based on the frame you press the jump button. So if you want a higher jump then you have to press space on the first frame, and then immeditely after press jump on the second. For a game running at 60 fps, this is incredibly difficult. I think this could be easily tweaked to allow the player more time to maximize their jump with a little more room for error between jumps. (Allow more delay between frame input/add a buffer) I hope I'm on point with these problems, as I don't know what the source code looks like so I'm just giving my best guess based on what I played. Fixing these issues would make controlling the player way more tight so that players can precisely make jumps without errors.
Regardless, I had a great time! I hope you'll check out my video which has a few other tid bits thrown in there. I do rage a lot, but I watch my language for this particular video. Hopefully it's a fun experience to watch. Keep up the great work!
Hi NLAigis! Thank you for playing and for sharing your feedback! We agree, there are areas that the game can be improved in. We're hoping to gather as much feedback as possible and incorporate in v.2 in the coming months.
All I can say is wow! Young girls already developing a game. Go Girl Power!
It's a fun platformer but, it's a tough one! I got stuck on the part that has the spikes right after a saw I think that takes a lot of luck!